Sanchoman2020

Online
Thu Jan 16, 2020 4:22 pm
Hello world!
I have some questions that I have not been able to find an answer on my own:
First, I'd like to make a MIDI control track like the piano roll, that controls external or internal instrument. I have not been able figure out how to do this, except with a built in instrument track, when I use any of the built in synthesizers. Any good tutorials on that? I found only one in youtube
https://www.youtube.com/watch?v=uxZcunifT6w
that used the bass/drum line to create a MIDI track inside a soundless instrument, that seemed a bit unorthodox way to do it.
Is there some "correct" way to do a MIDI control track with piano roll or something similar?
Second question is about GSnap "autotune" plugin. The question is the same as brought up in this thread
viewtopic.php?f=7&t=268
, that has not been answered. So what I am trying to do, is I have a vocals coming trough sample track, that I run trough the GSnap "autotune" imported as a filter plugin. I want the autotune to tune the vocal track to a note that is playing in MIDI track. GSnap has an option to "snap to MIDI", but
I don't seem to be able to find where I can set the midi track to control the plugin. Any help on that?
Snap to MIDI in GSnap: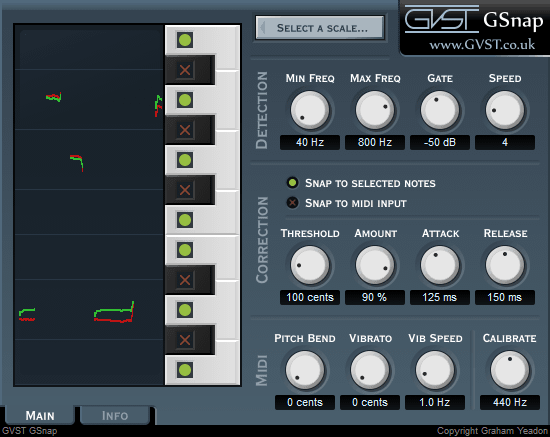 Tutorial about GSnap what I want to do in LMMS:
https://www.youtube.com/watch?v=P7fNUwMZORw
Follow up question on GSnap,
is it supposed to be used as a filter or as a VeSTige instrument?
Same question as in the previous thread, as a filter, I can't get MIDI input and as an instrument, there is no audio going through the GSnap.
I am running on Win10 and LMMS version 1.2.1.